Doon Business School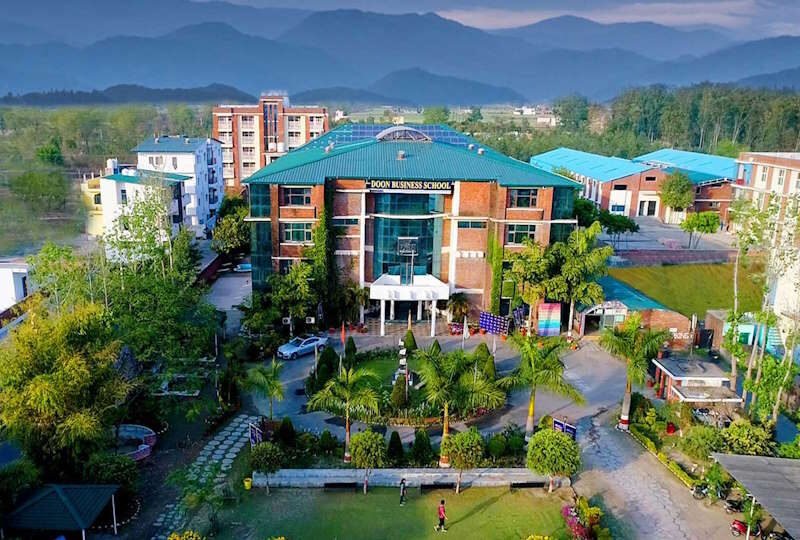 Established in 2007, DBS Dehradun holds the 122nd position in The Times 2022 MBA rankings. This esteemed institution offers a range of courses in collaboration with Veer Madho Singh Bhandari Uttarakhand Technical University, HNB Garhwal University, and Sri Dev Suman University. With approval from both AICTE and UGC, DBS Dehradun stands as a reputable educational establishment.
Catering to diverse academic pursuits, DBS Dehradun provides undergraduate and postgraduate programs spanning across fields such as Management, Commerce, and various other streams. Beyond the core curriculum, the institution goes the extra mile by offering value-added certificate programs, enhancing the overall educational experience for its students.
Courses and Fees:-
| Courses | Total Tuition Fees | Eligibility |
| --- | --- | --- |
| MBA/PGDM (5 courses) | 5.6 L – 9 L | Graduation: 50%, Exams: MAT, CAT, CMAT, XAT, UKSEE, CBSE 12th, UK 12th, Acids, Bases and Salts |
| BBA (3 courses) | 5.1 L – 9 L | Exams: CBSE 12th, UK 12th |
| B.Sc. (2 courses) | 4.2 L | Exams: CBSE 12th, UK 12th |
| B.Com (2 courses) | 3.6 L – 3.7 L | Exams: CBSE 12th, UK 12th |
| BCA (1 course) | 2.4 L | Exams: CBSE 12th, UK 12th |
| B.A. (1 course) | 3.4 L | Exams: CBSE 12th, UK 12th |
| M.A. (1 course) | 1.8 L | – / – |
| M.Sc. (1 course) | 1.8 L | Graduation: 55% |