Dev Bhoomi Uttarakhand University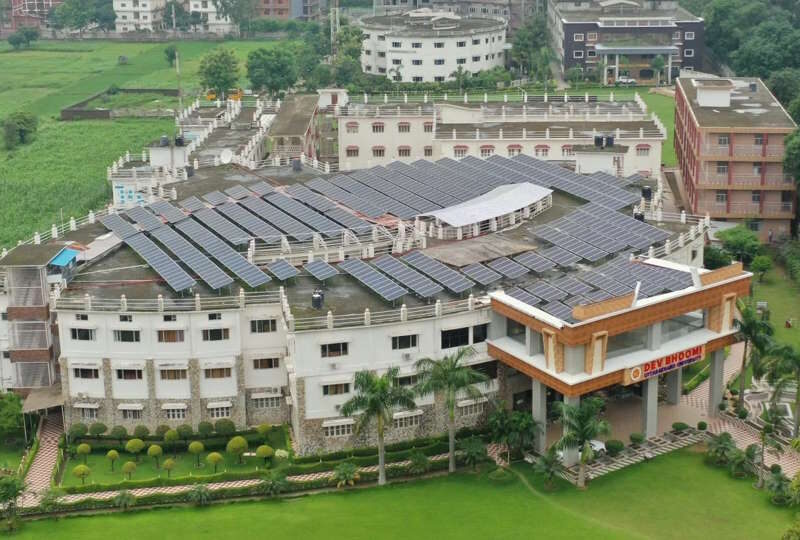 Dev Bhoomi Uttarakhand University (DBUU), nestled in the serene environs of Dehradun, stands as a testament to educational excellence. Comprising six distinct schools, DBUU covers a diverse spectrum of disciplines including Engineering, Management, Health Sciences, and beyond. Established initially in 2005 under the appellation Dev Bhoomi Institute of Technology (DBIT), the institution's roots trace back to its origins in the realm of Engineering education.
Operating as a non-profit entity, DBUU operates under its own governance, guided by a commitment to innovative pedagogical models that seamlessly align with the ever-evolving trends within industries. The university's curriculum is carefully crafted, offering a harmonious blend of theoretical knowledge and hands-on application, thus nurturing individuals holistically. One hallmark of DBUU is its faculty members, a dynamic assembly with diverse expertise across a multitude of domains.
At the heart of DBUU's educational philosophy lies a student-centric approach. This ethos translates into an environment that fosters optimal learning experiences, ably supported by state-of-the-art facilities, all geared towards propelling students towards success. This methodology not only imparts knowledge but also instills a sense of accountability and maturity, preparing students for both their professional and personal journeys.
DBUU's dedication to comprehensive preparation is further evident through a range of avenues including guest lectures, interactions with industry experts, immersive industry visits, and invaluable internships. This multifaceted approach equips students with the practical skills and insights necessary to navigate the professional realm with confidence.
The university holds the esteemed approvals of renowned bodies such as the All India Council of Technical Education (AICTE), Council of Architecture (CoA), Pharmacy Council of India (PCI), and Central Council of Indian Medicine (CCIM), underscoring its commitment to adhering to high educational standards while staying attuned to industry demands. In essence, Dev Bhoomi Uttarakhand University stands as a beacon of progressive education, nurturing minds and talents to thrive in the modern world.
Courses and Fees:-
| Courses | Total Tuition Fees | Eligibility |
| --- | --- | --- |
| B.Sc. (22 courses) | 90K – 7L | 10+2: 45-50%, Exams: CBSE 12th, NCHMCT JEE |
| B.E. / B.Tech (23 courses) | 3L – 6L | 10+2: 50-55%, Exams: CBSE 12th |
| B.A.M.S. (1 course) | – / – | 10+2: 50%, Exams: NEET |
| B.Pharma (2 courses) | 2.7L – 6L | Exams: CBSE 12th |
| BCA (4 courses) | 2.4L | 10+2: 45-50%, Exams: CBSE 12th |
| MBA/PGDM (4 courses) | 2.5L – 2.8L | Graduation: 50%, Exams: CBSE 12th |
| B.A. (7 courses) | 1.2L – 2.1L | 10+2: 45%, Exams: CBSE 12th |
| B.Des (6 courses) | 4L | 10+2: 45-50%, Exams: CBSE 12th |
| BHM (1 course) | 2.8L | 10+2: 45%, Exams: CBSE 12th |
| B.Com (2 courses) | 1.4L – 2.1L | 10+2: 40-45%, Exams: CBSE 12th |
| BBA (5 courses) | 2.4L | 10+2: 45%, Exams: CBSE 12th |
| D.Pharma (2 courses) | 70K – 90K | 10+2: 40%, Exams: CBSE 12th, UBTER JEEP |
| UG Diploma (16 courses) | 25K – 1.2L | 10+2: 40%, Exams: CBSE 12th, UBTER JEEP |
| After 10th Diploma (10 courses) | 90K – 2.1L | 10+2: 50%, Exams: UBTER JEEP, CBSE 12th |
| MCA (2 courses) | 1.6L – 1.8L | Graduation: 50-55% |
| BPT (1 course) | 4L | 10+2: 50%, Exams: CBSE 12th |
| M.Sc. (9 courses) | 1.2L – 1.6L | Graduation: 45% |
| B.H.A. (1 course) | 2.1L | 10+2: 50%, Exams: CBSE 12th |
| BMRIT (1 course) | 3.1L | 10+2: 50%, Exams: CBSE 12th |
| BFA (1 course) | 2.4L | 10+2: 45%, Exams: CBSE 12th |
| MHA (1 course) | 1.4L | Graduation: 45% |
| BMLT (1 course) | 3.1L | 10+2: 50%, Exams: CBSE 12th |
| B.Arch (1 course) | 6.3L | 10+2: 50%, Exams: NATA |
| M.Pharma (2 courses) | 3L | Graduation: 55%, Exams: GPAT, DUET, UKSEE |
| M.A. (4 courses) | 50K – 1.2L | Graduation: 50% |
| GNM (1 course) | 2.7L | 10+2: 40% |
| M.E./M.Tech (10 courses) | 2L | Graduation: 55%, Exams: GATE |
| MHMTT (1 course) | 1.4L | Graduation: 50% |
| M.Plan (1 course) | 2L | Graduation: 50% |
| B.Plan (1 course) | 4L | 10+2: 45%, Exams: CBSE 12th |
| B.Sc. (Post Basic) (1 course) | 2.5L | 10+2: 45% |
| Pharm.D (1 course) | 9.9L | 10+2: 50% |