BFIT Group of Institutions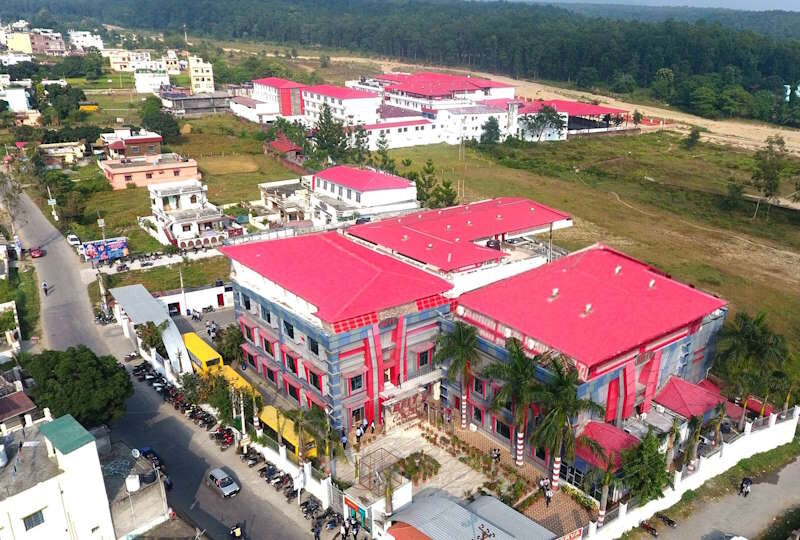 Founded in the year 2002, BFIT Group of Institutions stands as a distinguished establishment situated in Uttarakhand, India. Renowned for its diverse array of academic programs, the institution offers an extensive range of choices for students. These offerings encompass both Degree and Diploma courses, comprising an impressive total of 32 Undergraduate and 34 Postgraduate options. Moreover, the institution also provides After 10th Diploma courses, catering to students right after their secondary education. All of these programs are conducted in the Full-Time mode of study.
BFIT Group of Institutions has earned its reputation as a prominent hub for a wide spectrum of courses, including UG Diplomas, MHA (Master of Hospital Administration), B.Sc. (Bachelor of Science), M.Sc. (Master of Science), M.A. (Master of Arts), B.A. (Bachelor of Arts), MPH (Master of Public Health), B.Com (Bachelor of Commerce), BHM (Bachelor of Hotel Management), M.Com (Master of Commerce), MCA (Master of Computer Applications), MBA/PGDM (Master of Business Administration/Postgraduate Diploma in Management), B.E. / B.Tech (Bachelor of Engineering / Bachelor of Technology), as well as After 10th Diploma and BBA (Bachelor of Business Administration) programs.
The educational offerings are delivered by a highly experienced faculty, encompassing a broad spectrum of disciplines. The institution boasts excellence in various fields, including but not limited to Hospitality & Travel, Medicine & Health Sciences, Science, Humanities & Social Sciences, Mass Communication & Media, Teaching & Education, Accounting & Commerce, IT & Software, Business & Management Studies, and Engineering.
Over time, BFIT Group of Institutions has cultivated expertise through its proficient and seasoned faculty members in a multitude of domains. These domains encompass Biotechnology, Microbiology, Food & Nutrition, Chemistry, Statistics, Geology, Home Science, Optometry, Zoology, Physics, Mathematics, Environmental Sciences, Biochemistry, Botany, Horticulture, Forestry, Agriculture, Civil Engineering, Electrical Engineering, Electronics Engineering, and Mechanical Engineering.
The institution prides itself on offering courses that hold recognition from esteemed approving bodies such as AICTE (All India Council for Technical Education). Collectively, the institution provides a total of 360 seats across its diverse courses.
The campus is well-appointed with a range of facilities aimed at enhancing the academic experience and overall student life. Notable amenities include an Auditorium, Boys Hostel, Cafeteria, Girls Hostel, Gymnasium, Hospital/Medical Facilities, Hostel accommodation, Laboratories, Library, Shuttle Service, Sports Complex, and a Wi-Fi enabled campus.
Courses and Fees:-
| Courses | Total Tuition Fees | Eligibility |
| --- | --- | --- |
| B.Sc. (17 courses) | 1.1 L – 2.8 L | 10+2 : 45 %, Exams : CBSE 12th, UK 12th |
| M.Sc. (20 courses) | 1.1 L – 1.6 L | Graduation : 45-50 % |
| B.A. LL.B. (1 course) | 3.4 L | 10+2 : 45 %, Exams : UKSEE |
| B.E. / B.Tech (5 courses) | 3.9 L | 10+2 : 45 %, Exams : CBSE 12th, UK 12th |
| BCA (1 course) | 1.4 L | 10+2 : 45 % |
| B.Pharma (2 courses) | 2.9 L – 3.9 L | 10+2 : 45 %, Exams : UKSEE |
| MBA/PGDM (1 course) | 2.4 L | Graduation : 50 %, Exams : MAT, CAT, UKSEE |
| BHM (1 course) | 2.8 L | 10+2 : 40 % |
| BBA (1 course) | 1.8 L | 10+2 : 40 % |
| MCA (1 course) | – / – | Graduation : 50 %, Exams : UKSEE, CUET-PG |
| After 10th Diploma (1 course) | 54.1 K | Exams : UBTER JEEP |
| B.A. (6 courses) | 1.3 L – 1.8 L | 10+2 : 40-45 % |
| M.A. (9 courses) | 70 K – 1.4 L | Graduation : 45-50 % |
| D.Pharma (1 course) | 1.5 L | Exams : CBSE 12th, UK 12th |
| B.Com (2 courses) | 1.4 L – 1.5 L | 10+2 : 45 % |
| LL.M. (1 course) | 1.1 L | Graduation : 50 %, Exams : UKSEE |
| LL.B. (1 course) | 1.8 L | Exams : UKSEE |
| MPH (1 course) | 3 L | Graduation : 45 % |
| BMLT (1 course) | 2.1 L | Exams : CBSE 12th, UK 12th |
| MHA (1 course) | 2.4 L | Graduation : 45 % |
| UG Diploma (1 course) | – / – | 10+2 : 33 % |
| M.Com (1 course) | 1.2 L | Graduation : 45 % |